…no one…
I have been many things. Presently, im commonly known as Espoir Manirambona. I also go by Hope n DJ Morpheus
I am the horn that awakes the sleepers…Beyond spacetime, i come to share words of wisdom with u. to learn from u and to accomplish my mission. Im choosing to be here now, currently based on Anishinaabe territory (aka ottawa, Canada) using this beautiful African, bantu form from burundi, to raise the frequency.
Ive been practicing being spiritual, present and free for many years now. I am learning to art of healing…feeling the pain, transforming negativity into POWER.
Im independent. I rely on on my own inner resources as well as the freeconomy. I say what feels right no matter what. I work with different progressive/radical groups working for positive change such as the Canadian Peace Congress, The Leveler and the Ottawa Panhandlers Union. However, my views our my own and I remain independent.
Prime!
Im building community, using politics to change the system, fearlessly broadcasting an anticapitalist n abolitionist new melody
Being free, MADE IN THE HOOD (shout outs to all my ppls in Draper, Ottawa) im rising in unity with peoples across this world n OTHER worlds here now, overcoming separation n illusion n staying strong…cuz we dont give a fuck 🙂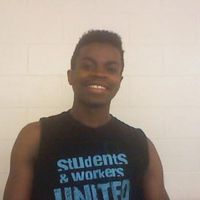 I enjoy learning, politics, spirituality, philosophy, history, astronomy, free living, organizing, dancing, laughing and enjoying this moment with u.
I hope u will allow these symbols to remind u of ur own inalienable divinity 🙂
i can b reached at flyblackpanther@riseup.net